Report on the SFB 956 Students Retreat 2019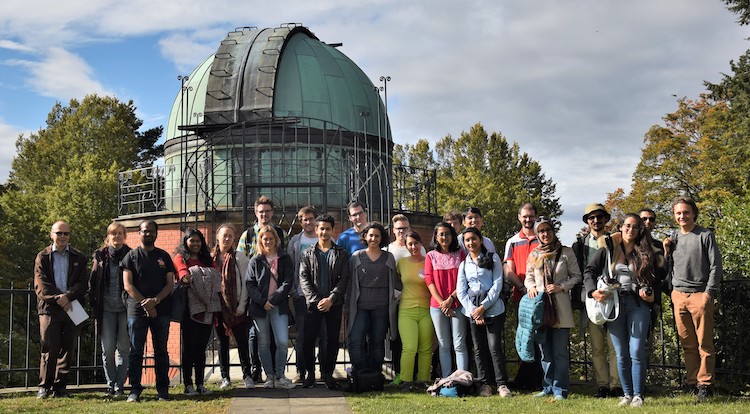 The first student retreat in the third funding period of the CRC 956 has been very close to becoming a new participation record in the CRC history. In total, we have been 19 doctoral candidates from all project areas that decided to visit the beautiful city of Prague on September 30th till October 3rd. It has been the first student retreat at which the final destination has been reached by plane and public transport instead of renting cars and driving. This allowed us to spend more time discovering the scientific and cultural history of this fantastic town. Due to rather cheap booking prices, we had the luck to rent a complete floor of a house, directly located in the city center of Prague. Even though this floor has been divided into two apartments, our open door politic made it feel like a single one.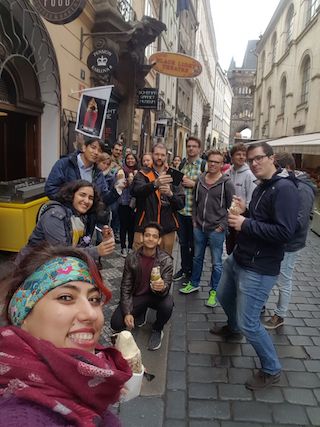 The first day of the student retreat was mainly about finding our way to Prague and settling down in the rented apartments. Like last year's retreat in Paris, all students came together after arriving at our final destination to plan and prepare dinner together. This has shown to be quite complicated since the apartments were not completely furnished with enough plates, knives, forks, and spoons to prepare such glories dinners as we had last year. Therefore, we decided to prepare something easy to share, Pizza. After making a shopping list, almost two-thirds of the group left the apartments to buy all the groceries that we needed in a close-by supermarket. The original plan of baking pizza had to be exchanged with cooking spaghettis since no commercial pizza dough was available. But as a famous saying from cologne says: "Et kütt wie et kütt, ävver et hätt noch emmer joot jejange" (What happens happens but, in the end, everything turns out to be fine), all students enjoyed a nice dinner together and spend the night with interesting personal and scientific discussions around the kitchen table.
The second day began quite early with a nice breakfast including freshly baked bread and scrambled eggs. Afterward, we left the apartments to meet Dimitri (?) and (?) at Prague's main station to take the train to visit Ondrejov Observatory. We left the train already one station earlier to start our day with a one and half hour hike through the beautiful countryside. Even though the weather forecast has been rather bad we had luck and made our way with the sun shining and small clouds refreshing our overheated heads after several small climbs. After this sportive hike, we were kindly welcomed at Ondrejov Observatory with fresh coffee and cookies followed by a guided tour through all their on site institutes. We learned a lot about tracing meteorites passing through the earth's atmosphere as well as optical and radio observations of the sun.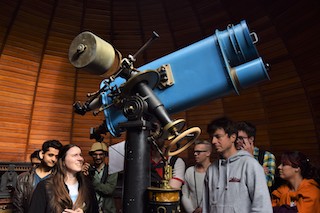 We really enjoyed this tour since it wasn't only presenting the current work done at the observatory but also an introduction into the interesting history of each scientific field as well as the observatory itself. Our visit was brought to a round figure by having lunch together in the conference room while listening to a talk by (?) about current since focusing on Active Galactic nuclei and super massive black holes. A long but very interesting day ended with being driven by the observatory bus back to Prague. We really appreciated it as well as our time at Ondrejov Observatory and want to send big thanks to Dimitri (?), (?) and all the staff that put so much effort into making this day a fantastic experience for us. Thank You! Even though most of us were already very tired from all the impressions we experienced this day we once more came together in a local Dutch restaurant to enjoy burgers, steaks, and salads as dinner. While some have chosen to go to bed afterward, others continued exploring Prague's pub scene coming back to the apartments, the latest ones close to 6 am.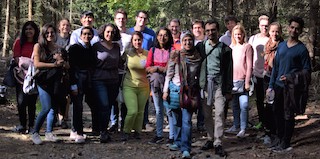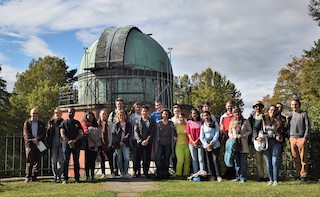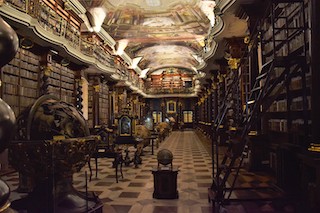 The third day again started with a shared breakfast followed by a visit to Clementium, which is a historic site in the old town of Prague. The latter is used to be the second biggest building in old Prague comprising the national library as well as the astronomical tower in which famous astronomers like Tycho Brahe or Johannes Keppler performed their observations. We had an almost completely private tour through the tower and the library learning a lot about the history of Astronomy in Prague. Before splitting up in smaller groups to discover Prague individually we met at Charles Bridge to enjoy a nice local sweet together called Trdelnik Chimney stuffed with ice. Afterward, some of us joined free walking tours, another group visited the historic Jewish district of Prague and the rest just walked through the town picking up its spirit. Even though the weather was rainy most of the day all of us enjoyed their time. Finally, in the evening everyone came together again to have a pyjama party to celebrate into Sina's birthday.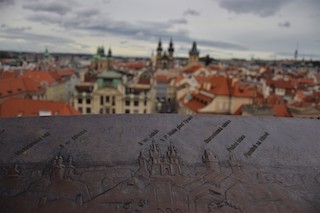 On the last morning in Prague, we packed our things, cleaned the apartments, used the last few hours to take some final looks at the historic old town and finally left to the airport to head back to Cologne. Overall the CRC 2019 students retreat was an amazing experience where we got to know each other much better and extended our knowledge on similar but different scientific fields as well as their history. We surely will profit socially as well as scientifically from all these impressions, new friends and a different view on our daily work in our institutes.