Venue:
Universität zu Köln, Physikalische Institute, Lecture Hall III, 3:00 pm
or MPIfR, Auf dem Hügel 69, 53121 Bonn, Auditorium 0.02, 3:00 pm
or AIfA, Auf dem Hügel 71, 53121 Bonn, AIfA Lecture Hall (Raum 0.012), 3:00 pm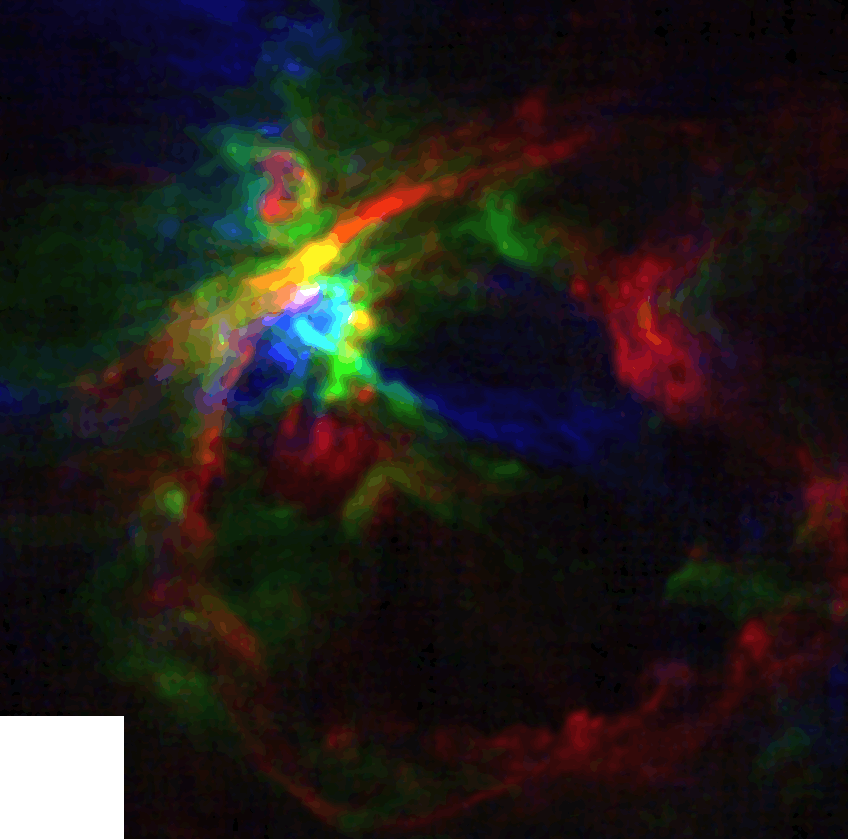 by Xander Tielens, Astronomy Department, University of Maryland, College Park and Leiden Observatory, Leiden University, The Netherlands
The interstellar medium (ISM) and its interaction with massive stars are central to galactic evolution. Interstellar gas is known to exist as atomic (HI) clouds and star forming molecular clouds. Recent observations reveal that half of the interstellar gas is in CO-dark molecular gas that has eluded detailed characterization because of lack of suitable tracer. Hence, its physical conditions and relationship to other gas reservoirs are largely unknown. Atomic and CO-dark molecular gas are heated by far-UV photons from massive stars through photo-electrons from large molecules, producing (inter)cloud phases of the ISM and controlling its emission characteristics. Through winds and explosions, stars also stir up the ISM dynamically. This source of turbulent pressure supports clouds & the gas disk against (self)gravity, disrupts molecular clouds, and compresses gas, triggering new star formation.
However, until recently, there was no good tracer for this dynamic interaction. LOFAR has opened up the low frequency sky to efficient surveys, providing a sensitive diagnostic of physical conditions and kinematics of HI and CO-dark molecular gas. Development of sensitive THz heterodyne receiver arrays combined with SOFIA's nimble telescope allow large scale surveys at sub-km/s resolution, probing coupling of radiative and mechanical energy from massive stars to their environment. Centered on these new observing opportunities, I will review our current understanding of the interstellar medium.
(Abstract PDF)
GOTHAM: A Meeting of Laboratory Spectroscopy, Observations, and Machine Learning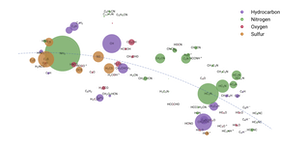 by Kelvin Lee, Department of Chemistry, Massachusetts Institute of Technology, USA
The recent discovery of benzonitrile towards the cold, dark molecular cloud TMC-1 with the 100 m Green Bank Telescope sparked interest into understanding the role small aromatic molecules play in the chemistry and physics of the interstellar medium. On the spectrum of molecular complexity, these species are intermediate between the small, several atom large molecules that are routinely as tracers, and the peculiar behemoths like the fullerenes and the ubiquitous polycyclic aromatic hydrocarbons (PAH). Beyond mere chemical curiosities, understanding how these molecules are formed and destroyed is relevant to how a substantial amount of material—in particular carbon—is transported and transformed in the interstellar medium, as well as gas phase synthetic routes to prebiotic molecules.

In this talk, I will present the latest results from the GOTHAM (GBT Observations of TMC-1: Hunting Aromatic Molecules) project, a large scale spectral line survey focusing on characterizing the chemical inventory of TMC-1 in the context of small aromatic molecules.I will discuss new molecular detections from this collaboration, which have been facilitated by new workflows in high resolution laboratory spectroscopy and signal analysis. Finally, I will present new machine learning methods I have developed to automate the discovery of new molecules, with the aim of providing guidance to laboratory, observation, and chemical modeling work in GOTHAM and subsequent campaigns.
(Abstract PDF)
The Inner Workings of a Starburst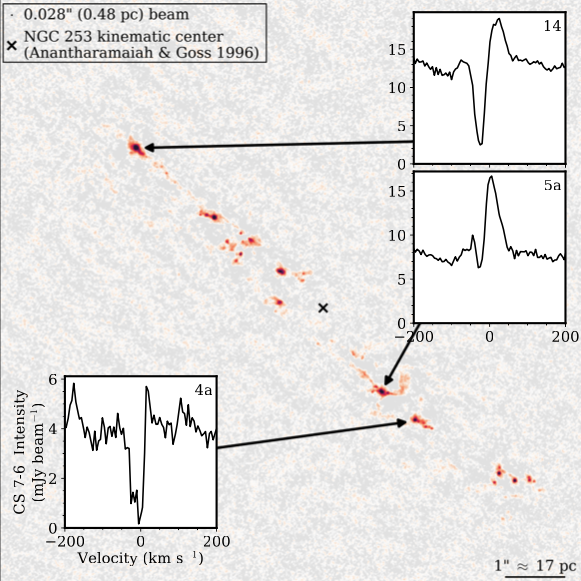 by Alberto D. Bolatto, University of Maryland at College Park, USA
Starbursts are a rare phenomenon in the present day universe, but they represent perhaps the most common mode under which stars form and galaxies grow during the z~1-2 peak of cosmic star formation activity. This mode of star formation is not a simple scaling of what happens in typical molecular clouds, but represents a much more efficient manner of converting gas into stars likely through the formation of massive clusters. The resulting feedback in the form of galaxy-scale outflows is, together with AGN, thought to be one of the main forms of regulation of galaxy growth. NGC 253 is the premier local example for a nuclear starburst, and has been targeted with several ALMA observations in order to study how these processes work. I will discuss the properties of the galactic molecular outflow, including our best constraints on the mass and outflow rate, and the
properties of the molecular gas. I will, however, focus on the results from high-resolution observations which reveal a dozen compact structures with properties corresponding to massive young star
clusters and super star clusters (SSCs), most of which are so embedded that are invisible in optical and NIR observations (the exception is a known SSC). Finally, I will present the analysis of our 0.5-pc resolution observations which reveal feedback and disruption on the scales of these clusters, I will discuss the properties of these "cluster-scale" outflows, and I will compare them to theoretical expectations.
(Abstract PDF)
Peering into the Dark: Probing the Formation and Early Evolution of Massive Stars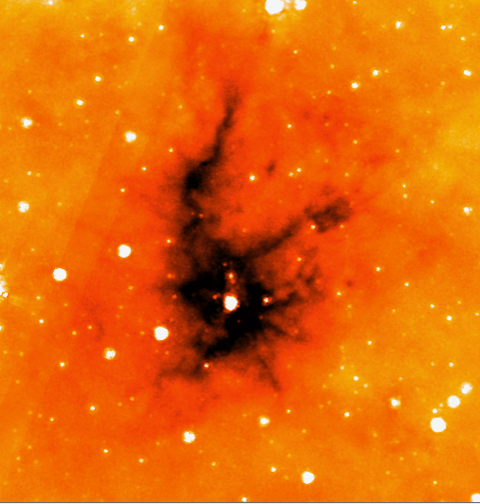 by Gary A. Fuller, Jodrell Bank Centre for Astrophysics, The University of Manchester, UK
This presentation will focus on recent work aimed at understanding the formation and early evolution of massive protostars. The massive (M>8 Msol) stars into which these evolve are the primary drivers of galactic ecosystems. The energy and nuclear processed material these massive stars inject into their enviroment during their lives and ultimately as supernovae, shapes the physical and chemical evolution of the ISM in galaxies. These stars are the precursors of a range of important astrophysical phenomena inlcuding pulsars, blackholes and gamma-ray bursts. Understanding the formation and early evolution of massive protostars is therefore essential for building comprehensive models of star formation and galactic evolution. Infrared dark clouds (IRDCs) are dense regions which are not (yet) dominated by the feedback from star formation and so are important regions for studying the initial conditions for the formation of massive stars, and their associated clusters of lower mass stars.

In this presentation I will discuss recent results from a number of studies of infrared dark clouds which shed light on the formation of these regions and the protostars which are forming within them. Using data from ALMA and other telescopes I will describe the evidence for infall over pc-scale sized regions around the most massive IRDCs and explore the extent to which observations can constrain the properties of the infall. I will then move on to discuss the initial results from TEMPO, an ALMA survey to investigate the chemical properties of a sample of massive protostars as a probe of their evolutionary stage.
(Abstract PDF)
The Chemistry of Planet Formation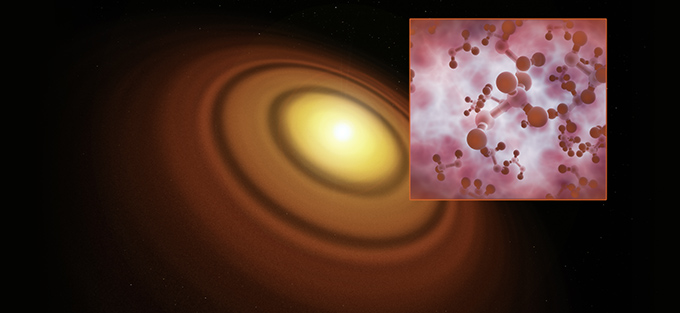 by Catherine Walsh, Astrophysics Group, School of Physics and Astronomy, University of Leeds, UK
Protoplanetary disks around young stars are the
factories of planetary systems. These structures contain all the
material - dust, gas, and ice - that will build planets and other bodies
such as comets. Hence, understanding the physics and chemistry of disks
provides much needed insight into the conditions under which planets
form, and determining their molecular content reveals the raw
ingredients of planetary atmospheres.

In this colloquium I will present early results from the first ALMA
Large Program dedicated to the observation of molecular line emission
from protoplanetary disks around nearby young stars at high angular
resolution (0.1" - 0.3"), titled "Molecules with ALMA on Planet-Forming
Scales" or MAPS. I will present images that reveal intriguing
sub-structure in emergent line emission from key organic molecules such
as CO, C2H, HCN, and CH3CN. I will discuss the link between known dust
substructure and the observed line emission, and will present results
from quantitative analyses of source properties such as radial mass
distribution, chemical structure, ionisation structure, and elemental
composition of the gas. I will also discuss how observations in the
gas-phase of large organic molecules provide insight into the
composition of the icy-comet building reservoir around other stars.
Finally I will discuss how early results from MAPS have provided the
most detailed studies to date of the chemistry of planet formation.
(Abstract PDF)
Cloud Formation and Feedback Processes: Results from the THOR Survey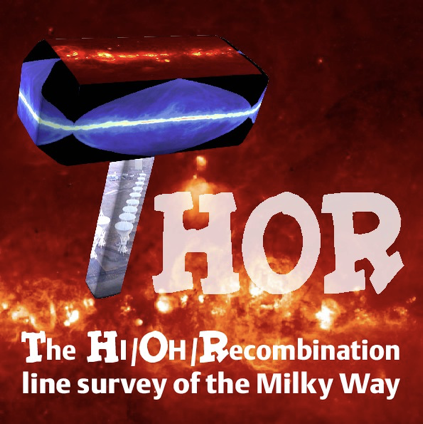 by Henrik Beuther, Max-Planck-Institut für Astronomie, Heidelberg, Germany
The large program THOR conducted with the Very Large Array (VLA) is a Milky Way survey that investigates our Galaxy in the atomic gas 21cm line, in molecular gas OH emission, and in the ionised gas in the continuum and radio recombination line emission. With this diverse setup, scientific questions can be addressed from the formation of clouds and atomic to molecular gas conversion at early evolutionary stages, to feedback processes of HII regions and Supernova remnants at late evolutionary stages of star formation. This talk will give an overview of the project and present recent results obtained within the survey.
(Abstract PDF)
GAIA-BIFROST: Formation and Architecture of Star and Planetary Systems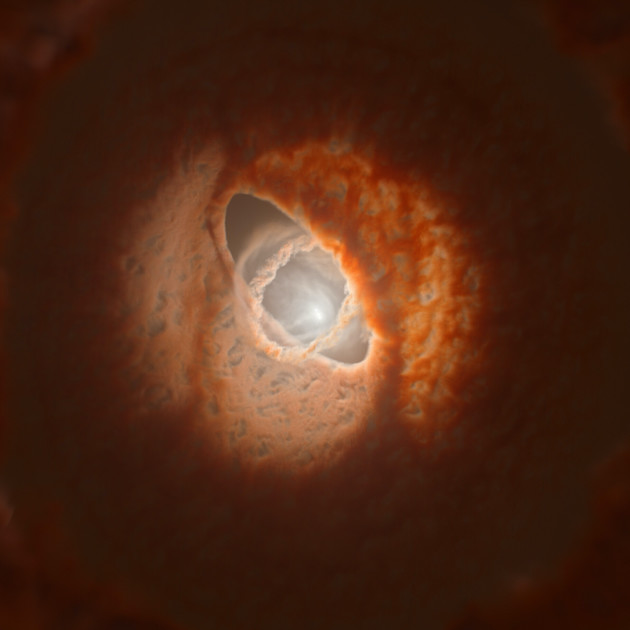 by Stefan Kraus, University of Exeter, UK
Most stars do not exist alone but are orbited by planets or stellar-mass companions. One of the big open questions concerns how planetary systems and multiple-star systems form and what causes the diversity in their orbital characteristics. For instance, the orbits of many Hot Jupiters are tilted with respect to the stellar spin axis, indicating that these planets formed in the outer disk and were then transported onto oblique orbits through dynamical interactions.
In this talk, I will outline how infrared interferometry allows us to explore the origin of the diversity that we see in star and planetary systems. I will discuss results from our MIRCX six-telescope imager at CHARA, where we achieve the resolution of a 330m telescope and search for potentially planet-induced structures in the innermost astronomical unit of protoplanetary disks. In another study, we find evidence for the disk tearing effect, where the gravitational torque of companions on misaligned orbits tears the disk apart and moves disk material out of the disk plane, enabling planet formation on highly oblique orbits.
In the second part, I will present the ERC-funded GAIA-BIFROST project that will measure orbital parameters, precision masses, and spin-orbit alignments for thousands of binary and planetary systems. We will build a new beam-combination instrument for ESO's VLT Interferometer, named BIFROST, that will open the short-wavelength and high spectral-resolution window at VLTI. This will allow us to measure spin-orbit alignments for wide-separation planets, providing fundamentally new insights on the dynamical processes that shape system architectures.
Finally, I will outline the prospects of using BIFROST with the VLTI unit telescopes for the characterisation of exoplanet atmospheres. Combining star-light suppression from interferometry and adaptive optics, BIFROST will be able to probe closer-in planets than GRAVITY/GRAVITY+ and provide access to complementary molecular line tracers, probing deeper layers of the atmosphere.
A New Guided Ion Beam Instrument – NOVion: Recent Results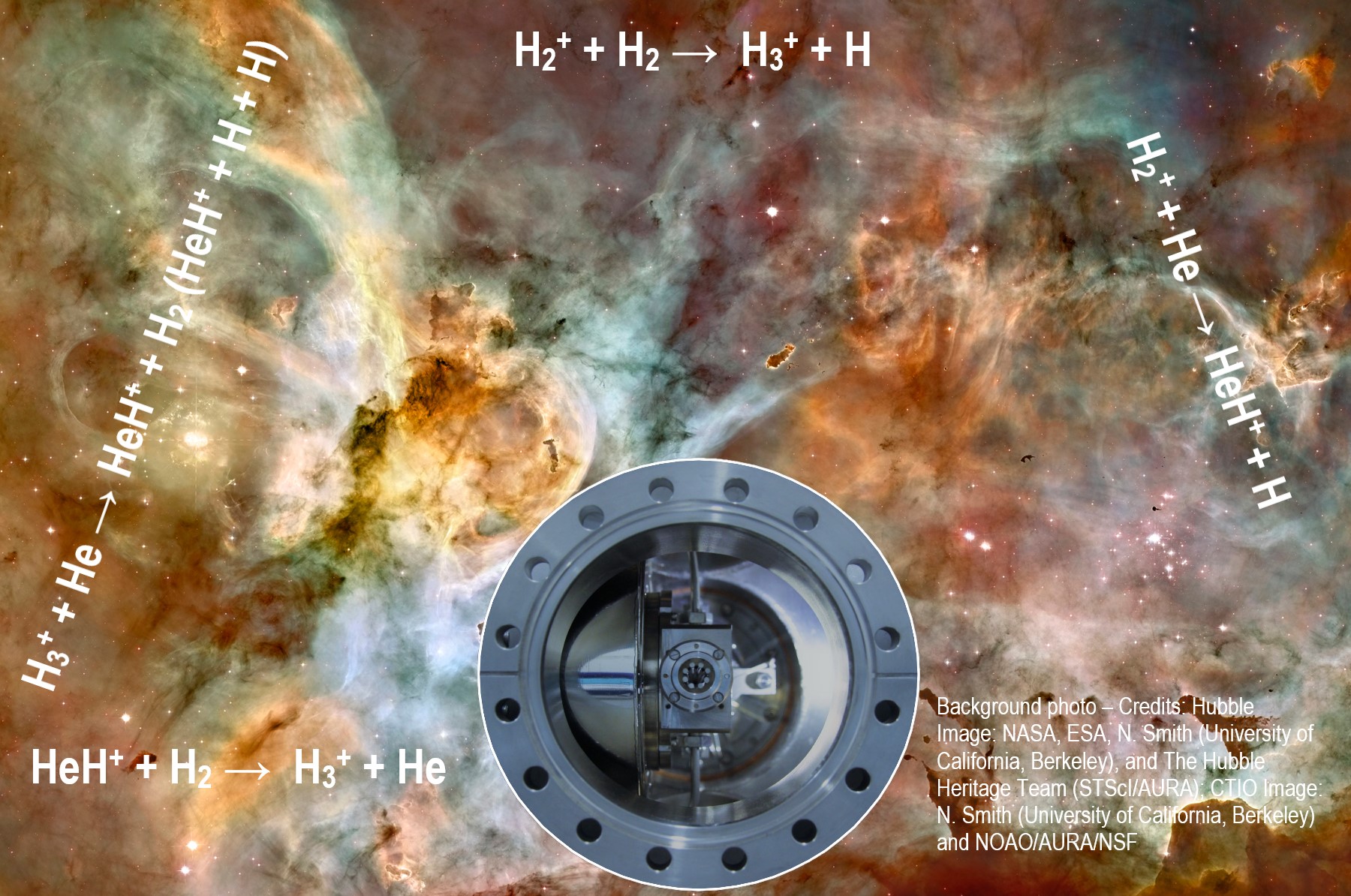 by Igor Savic, University of Novi Sad, Faculty of Sciences, Department of Physics, Serbia