Venues:
Universität zu Köln, Physikalische Institute, Lecture Hall I, 3:30 pm
or MPIfR, Auf dem Hügel 69, 53121 Bonn, Auditorium 0.02, 3:30 pm
or AIfA, Auf dem Hügel 71, 53121 Bonn, AIfA Lecture Hall (Raum 0.012), 3:30 pm
Molecular Precursors of the RNA-World in the Interstellar Medium: The Astrochemical Mine found in G+0.693-0.027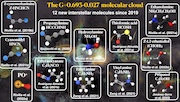 by Victor Rivilla, Centro de Astrobiología (CAB), CSIC-INTA, Madrid, Spain
We still do not understand how simple molecules combined together to form large molecules essential for living organisms. Recent prebiotic experiments, based on the RNA-world hypothesis for the origin of Life, have suggested that the three basic macromolecular systems (nucleic acids, proteins and lipids) could have formed from relatively simple precursors. The detection of some of these molecules in space, thanks to the unprecedented capabilities of current astronomical facilities, has opened a new window for astrobiology from the astrochemical point of view. In this seminar I will present the most recent results of an ultradeep unbiased spectral survey towards the molecular cloud G+0.693-0.027 with the Yebes 40m, IRAM 30m and APEX telescopes. We have recently discovered 13 new interstellar species, including key precursors of RNA nucleotides such as hydroxylamine (NH2OH); of sugars, such as the glycolaldehyde isomer 1,2-ethenediol ((CHOH)2); of proteins, such as ethyl isocyanate (C2H5NCO), and propargylimine (HCCCHNH); of lipids, such as ethanolamine (NH2CH2CH2OH) and propanol (CH3CH2CH2OH); and new species with phosphorus, such as the ion PO+. This amazing chemical complexity, which might be only the tip of the iceberg, means that interstellar chemistry offers an extremely rich feedstock for triggering prebiotic chemistry.
The Key Role of Astrochemistry in driving Planet Formation and Habitability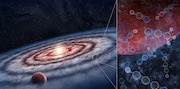 by Ilse Cleeves, Department of Astronomy, University of Virginia, USA
Historically, our perspective on how planets form and obtain their compositions has been motivated by our Solar System. However, we are just one system, and missions like Kepler and TESS have revealed a variety of planetary types and architectures. How do we fit in? In the last five years, the Atacama Large Millimeter Array has revolutionized our understanding of planet formation by observing the process at high spatial resolution (reaching in some cases ~AU scales) matched with unprecedented sensitivity at radio wavelengths. In this presentation, I will review recent highlights from the TW Hya as a Chemical Rosetta Stone ALMA project and discuss how these findings both confirm and, in some ways, challenge our current picture of the chemistry of planet formation.
(Abstract PDF)
Evolution of Molecular Clouds and their Star Formation Activity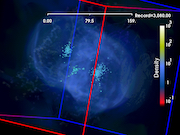 by Enrique Vázquez-Semadeni, Institute of Radio Astronomy and Astrophysics, National Autonomous University of Mexico
I will discuss current theoretical views on the formation of molecular clouds (MCs) and their
evolution, from their thin, cold atomic cloud stages, through their moderately star-forming stages,
to their strongly star-forming epoch and subsequent destruction by their newly-formed massive star
population. I will first discuss some problems of the model of turbulent support for MCs, and the
reasons why MCs may instead be undergoing a process of global hierarchical gravitational contraction.
Within this context, I will discuss the formation and flow in filamentary structures, the evolution
of the virial parameter and the star formation rate, and the assembly of young stellar clusters and
associations as a consequence of the hierarchical gravitational collapse in the clouds.
(Abstract PDF)
Let the Games begin: Quasars Populate the Early Universe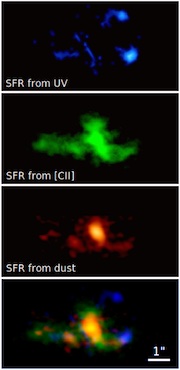 by Roberto Decarli, National Institute for Astrophysics (INAF) - Observatory of Astrophysics and Space Science of Bologna (OAS), Italy
Quasars have been at the frontier of the known Universe since their early discovery more than 60 years ago. Today, astronomers have identified more than 400 quasars at cosmic dawn, at redshift z>5.5, when the Universe was less than 1 Gyr old. The mere presence of such massive black holes in the early Universe is a stress-test for models of their formation and early growth. Furthermore, thanks to their luminosity, quasars can be used to pin-point some of the most massive galaxies at cosmic dawn, that appear to reside in prominent overdensities and protoclusters. This provides a unique opportunity to use quasars as laboratories to study the first steps in the life of massive galaxies. In this talk, we will review the observational challenges, the achievements and failures in the study of quasars at cosmic dawn, and discuss the observational outlook in the framework of the forthcoming facilities.
(Abstract PDF)
Using Astrochemistry to Understand Star Formation from the Milky Way to High Redshifts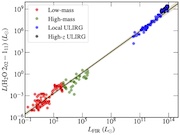 by Lars Kristensen, Center for Star and Planet Formation, Niels Bohr Institute, University Copenhagen, Denmark
Stars form deep inside molecular clouds. During the formation process, various molecules "light up" in different physical components of the forming protostellar system and at different evolutionary stages. Understanding the origin of this emission, both from a chemical and an excitation point of view, makes it possible to use the emission to trace star formation activity from the Milky Way and well beyond.

Here, I will present recent results highlighting how our understanding of the chemistry and excitation processes can be used to shed light on both Galactic and extragalactic star formation. These will include newly developed tools for inferring global star-formation parameters, e.g., rate and efficiency, from observations of certain molecules. These tools are now allowing us to bridge the gap between Galactic and extragalactic star formation, allowing us to address if stars form in the same manner throughout the Universe or not.
(Abstract PDF)
Sexism in Science: Changing the Conversation with Comics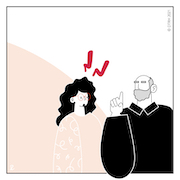 by Lucia Perez-Diaz, Kirstie Wright and Maëlis Arnould, Halliburton, Oxford, United Kingdom; Rocktype, Edinburgh, United Kingdom; Laboratoire de Géologie, University Lyon 1, France
Like any other workplace, academia is not free from everyday gender stereotypes and sexist behaviours. They participate in the feeling of devaluation of women and gender non-conforming individuals, which ultimately contributes to a persisting gender imbalance in academia. Building on this observation, the Did this really happen?! project, born in 2016, aims at reporting real occurrences of everyday sexism experienced within the scientific community. Through our website www.didthisreallyhappen.net, we have collected more than 150 anonymous contributions, which we publish using comic strips, with the goal to share and spark conversation.

In reflecting on the project so far, it is clear sexism is not confined to one career level in academia, with around half of testimonies coming from PhD and Early Career Researchers, with the other half coming from mid to senior level scientists. Several themes are recurring, such as treating women as objects, questioning their competencies, or confining male to stereotypical roles.
In 2021, the DTRH?! project was relaunched with new team members and a new illustrator. We will present how we aim to document and illustrate the widespread sexist attitudes that affect both women (and men) in science today, challenging this behaviour with humour, and to inspire discussion.
(Abstract PDF)
Leveraging EHT and Multi-wavelength Monitoring to Reveal Sgr A* and M87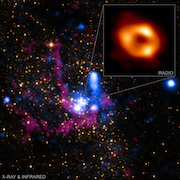 by Daryl Haggard, McGill University and the McGill Space Institute, Montreal, Canada
It's been a fantastic decade for black hole studies, highlighted by the 2017 and 2020 Nobel Prizes in Physics. Multiple Galactic Center research groups, the Event Horizon Telescope, and LIGO/Virgo continue to bring rapid-fire new observations to sharpen our understanding of these exotic objects. I will discuss Sgr A*'s unique variability alongside other time domain phenomena in the Galactic Center, traced out over more than 20 years of observations from coordinated multi-wavelength campaigns. I will compare these detailed studies of Sgr A* to equally impressive multi-wavelength observations of M87*. I will also briefly explore how we can continue to push the frontiers of black hole research with existing and next-generation observatories.
Image credit: X-ray: NASA/CXC/SAO; IR: NASA/HST/STScI. Inset: Radio (EHT Collaboration)
(Abstract PDF)